Hey Bumfuzzlers! I have some interesting changes for you this week! New abilities like @Mentions and Rocket Launcher trajectory, but also some changes to the wipe schedule and raiding! Check it out!
@Mentions
On both Modtopia and Vanillatopia, now you can @mention other players and it will alert them with a sound. Simply type a message in chat and add @playername. It will work with partial matched names too!
Rocket Trajectory
If you're level 21 and above on Modtopia (/loyalty), you'll have access to a nifty indicator for Rocket Launchers that shows you where your rocket will land. This is really nice for those tricky situations where it's somewhat unclear.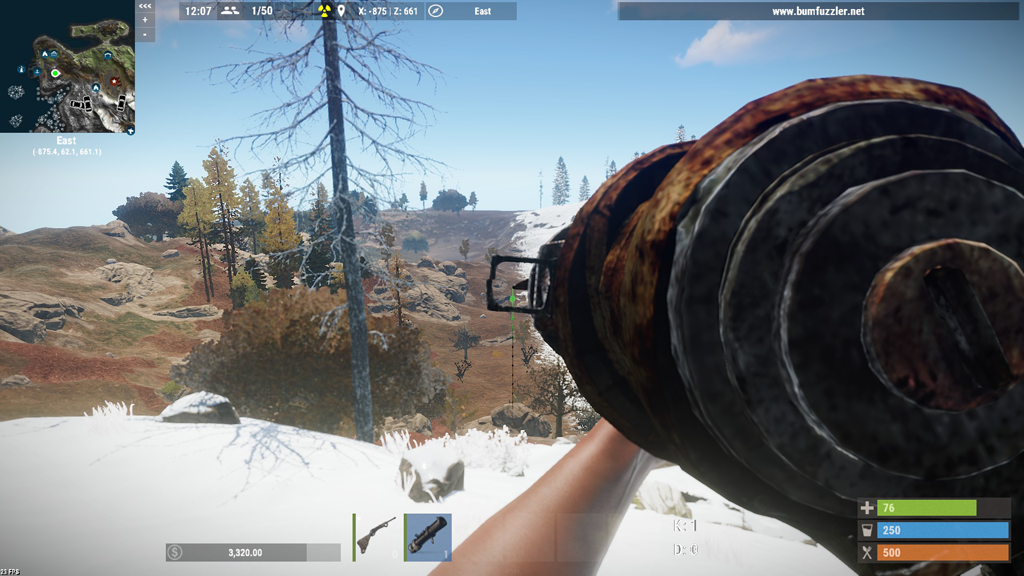 Notice the line coming from the sight!
Drag Bodies
Now you can drag player and NPC bodies! Uh, if they're dead lol This is great for PVP fights where you want to drag friends or clan mates indoors or even if you want to drag an NPC body somewhere away from sight or out of harms way.
To start dragging a body, hold down Left Mouse Button and press the Use Button (e). Then to stop dragging a body, let go of Left Mouse Button. Simple as that. Note that the body will drag somewhat far from you so make sure you move away from the corpse when you drag. Note this is only for Modtopia right now.
Wipe Schedule
On Modtopia we've been using a 2 week map wipe with a 1 month blueprint wipe. We're going to be switching it up with a 1 week map wipe and a 2 week blueprint wipe. On Vanillatopia where we've been using a 1 month map and blueprint wipe, we'll be switching to a 2 week map and blueprint wipe.
The hope is this will make things more fun and vibrant instead of having things turn boring while players wait for the wipe.
Wipe Block
As a result of the change, on Modtopia, I'll be reinstating Wipe Block, but the items blocked will be few and for less time.
Satchel Charge: 4 hours
F1 Grenade: 4 hours
Beancan Grenade: 4 hours
Survey Charge: 4 hours
Timed Explosive: 8 hours
Rocket Launcher: 8 hours
Hopefully this will allow players to get started after the wipe and we won't have anyone crushing 2 x 2's lol
Anti-Offline Raiding
For a while now, Modtopia has had base protection for offline players on a 10 hour cycle. You sign off and you get 10 hours of protection where each hour drops down 10% until you get to zero.
With the shorter wipe schedule on Modtopia, I'm going to cut the protection and see how it goes. Here's how it'll work:
Protection starts 10 minutes after signing off
Each hour you're offline, protection drops 20%
After 5 hours offline, protection reduces to 0%.
After 48 hours offline, protection reduces to -25%
Keep in mind I'm in the process of trying to replace this system with another that promotes players actually playing instead of signing on for the protection and then leaving, but I have a ways to go before it's completed.
So there you have it Bumfuzzlers! Some pretty big changes and some nice new functionality 🙂 Enjoy!