Builder Paradise of Bumfuzzler Proportions
Bumfuzzlerbuild (135.148.136.211:28003) is for the builder who wants the perfect Rust paradise to create the bases of their dreams. Relax by smacking a couple of rocks after a long day of work while keeping it interesting with challenging zombies, bosses, NPCs, and purchasable raids.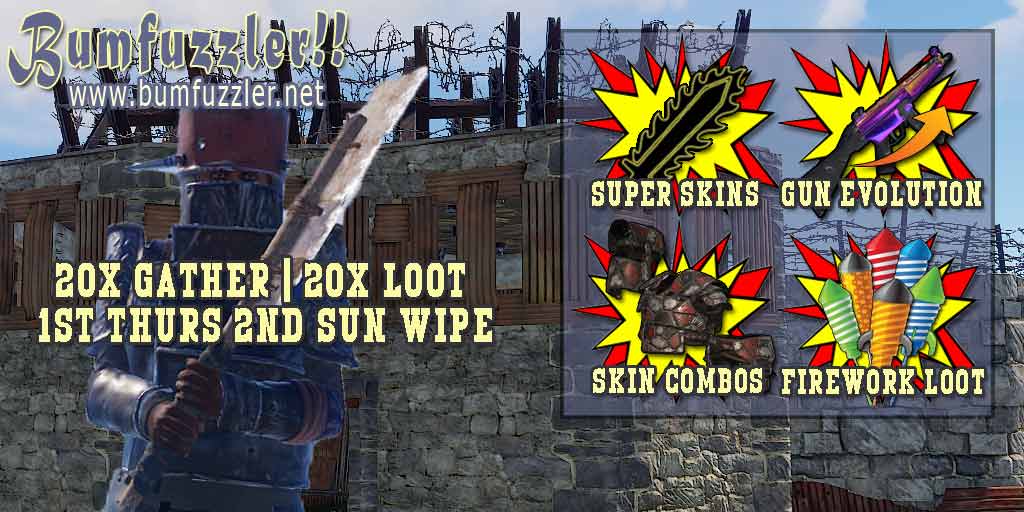 1st Thurs & 2nd Sunday Wipe

Blueprints remain all month

Super Skin Damage, Dodge & Gather
Dig up Buried Treasure Chests

Persistent Player Statistics
Join the server now! There are so many more exciting features! 
Click the arrow, use steam://connect/66.55.149.84:28016 OR
Press F1 for console, type: connect 66.55.149.84:28016 OR
View How to Connect to Rust Servers for help
"I LOVE this Bumfuzzler server.
Thank you America." – Haunted
Starter (Automatic Access)
From the first time you join, you'll have access to all of these plugins automatically.
Treasure maps lead to buried treasure, gold coins are used in the store (!treasure)
Furnace splitting allows you to auto-split resources in furnaces for faster smelting
Receive subscriber packages for subscribing to the website (/kit)
Earn points for game time, unlocking new levels and perks (/prestige)
Receive sympathy when you're raided and get back some resources (/sympathy)
Level 0 (Newborn – 1 loyalty point)
Level 1 (Inhabitant – 5 loyalty points)
Level 5 (Native – 30 loyalty points)
Level 7 (Seasoned – 60 loyalty points)
Level 8 (Recognized – 100 loyalty points)
Level 14 (Warhorse – 1,500 loyalty points)
Level 15 (Veteran – 2,000 loyalty points)