Big update this past Thursday! Got lots of new toys for all you Bumfuzzlers! We've got everything from motor boats, to a new Chinook event, to triangle walls and more! Here's a quick overview of what's new in Rust!
Motor Boats
They call them row boats, but that doesn't make any Bumfuzzler sense to me. They have an outboard motor and speed around in the water! Ain't no oars in sight! lol
You'll find somewhere around 48 spawned around the map. Make sure you fuel them up, push them into reasonably deep water and sit in the seat closest to the motor. Oh! And make sure to start the engine!
Check them out! And don't forget, with the fishing plugin we have on Modtopia you can use /castfishingpole to fish 🙂
Also, now that you can skip around on your new high speed aquatic vehicle, you can get to the loot piles out in the ocean!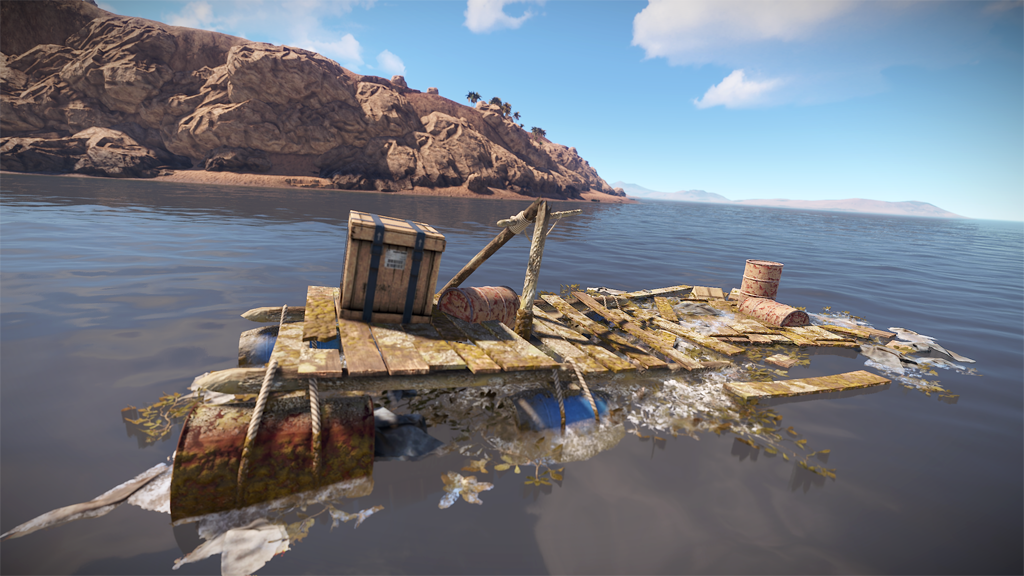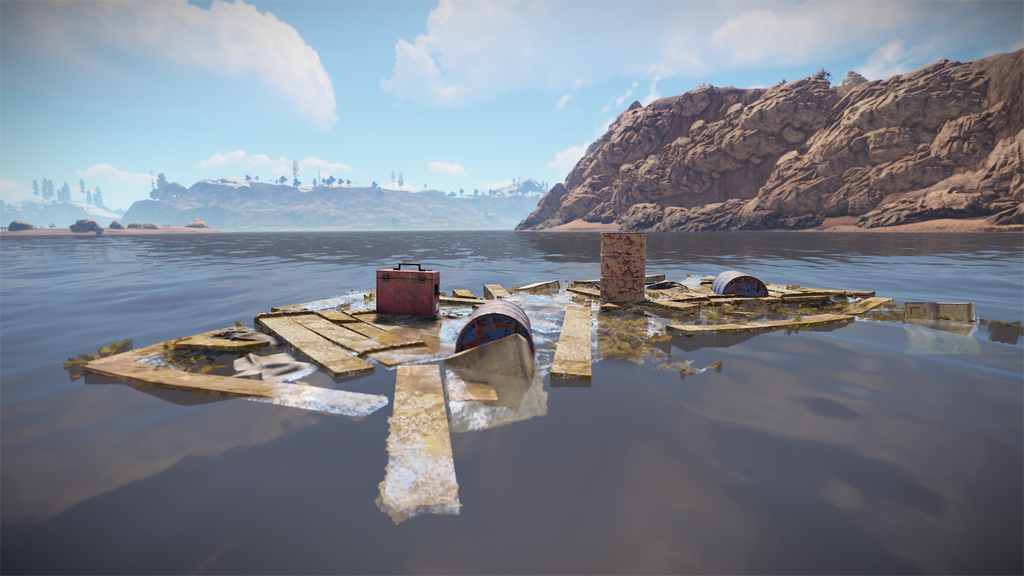 Buoyancy
As they were working with making boats float, it appears making bodies float was just as easy so now… bodies float! 🙂 It's a good addition for those of us who enjoy realism.
Chinook Event
This thing rocks! 🙂 It's filled with scientists, flying bullets and special cargo!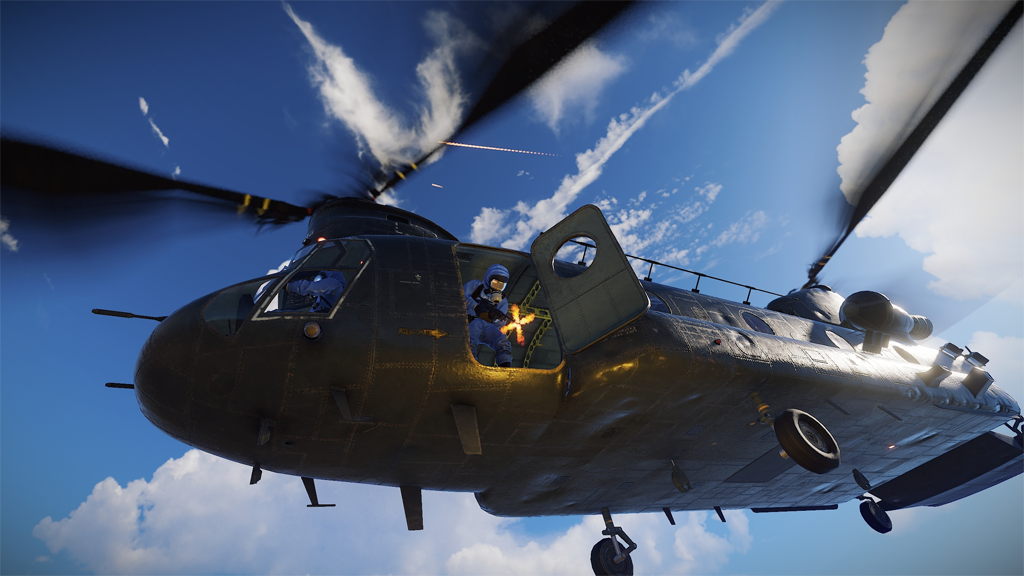 The cargo has a special lock on it that will take some time to open so you'll have to defend it against other players. It's said damaging the laptop will simply slow it down so best not to do that!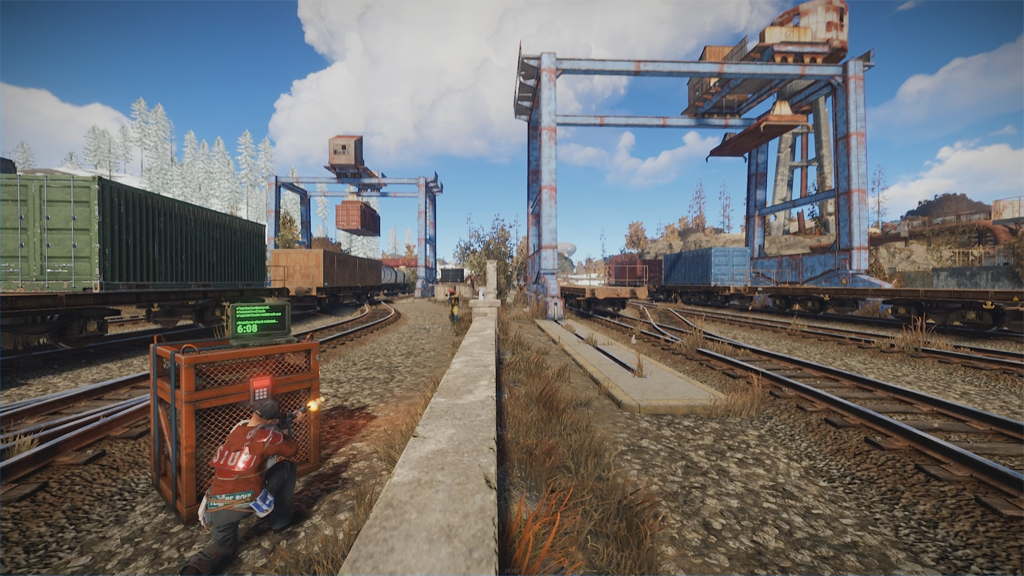 Water Impacts
Now bullets have the proper reaction when shot into the water. It looks really nice!
The Forest
The foliage is looking quite awesome with the changes!
New Map
Personally, I love using LustyMap (key m or /map – only available on Modtopia) but the game map has gotten some great improvements! There's so much more detail now and you can really see the topography of the land. I do wish you could fully zoom out, but it's still nice. It shows the crate for the Chinook event real clearly on the map. I'm expecting an update to LustyMap to do the same.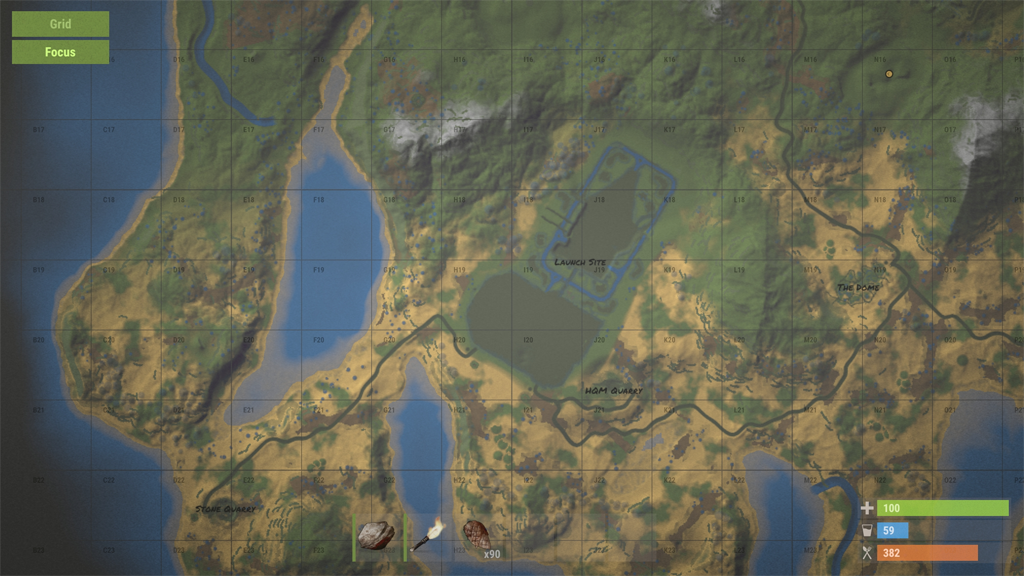 Triangular Walls
Now more weird looking roofs now that we have triangle walls. I wonder what else people will use them for?!? Guess we'll have to see 🙂
Tons of Balances
Here's a quick list of some of the changes:
The AK47 now has increased recoil and a slightly more complicated recoil pattern during the initial burst.
The AK47 now has less accurate firing from the hip due to an increased aimcone value for hipfire.
Semi Automatic Pistol now has a HQM cost of 4 (was 8)
Semi Automatic Rifle now has a HQM cost of 4 (was 0)
All SMGs cost half the HQM they used to (including mp5)
Heavy Plate Armor pieces are half price
T-Shirt costs 20 scrap to research (was 75)
Longsleeve shirt costs 20 scrap to research (was 75)
Longsword crafting cost was halved
Hide armor leather costs halved
Bolt action rifle cost reduced significantly
BAR more damage
Heavy Plate less nerf
Shirt/longshirt more radiation protection
HV rockets deal 1/4 rocket damage
HV Rockets cost 1/4 what basic rockets cost
Rocket launcher cost reduced
Enjoy Bumfuzzlers! Lots of great things in this patch and a lot of great things coming! Below I've highlighted the major changes (IMO)
Devblog 199 April 05 2018
NEW Added Powered rowboat vehicle

NEW Added Chinook Event

NEW Multiple seats in vehicles

NEW Added lakeside forests

NEW Added Birch, Oak and Beech trees

NEW Added projectile pooling (gunfight performance)
NEW Bullets now impact water
NEW Added server asset warmup (performance hiccups)
NEW New client side entity parenting (performance, vehicle support)

NEW Added triangular conditional wall models

NEW Junkpile Scientists

NEW Hapis – Added Junkyard monument
NEW Hapis – Added Outpost B3 small monument
NEW Hapis – Added sewer branch monument
NEW Hapis – Added Collapsed Tunnel small monument
NEW Hapis – Mining outpost
NEW Added vehicle spawns to Savas KOTH
NEW Added horse meat (needs icons)
NEW vehicle_flipy and vehicle_sensitivity convars (unused)

NEW Hair Cap system

NEW Head and Facial hair styles

NEW Player Corpses float on water

NEW Variable wind animation

NEW Added floating offshore junkpiles

UPDATED Updated ingame map to be more detailed

UPDATED Map coords swapped so that the letter is horizontal
UPDATED Eye Adaptation and LUTs updated
UPDATED Tweaks to dynamic grass and terrain splat colours to align
UPDATED Re-added display of decals on static furnace, mining quarry, pumpjack & small refinery
UPDATED Changes to ocean and river reflectivity to be more physically accurate

UPDATED Caves Spikes Trap nerfed

UPDATED Major network interpolation & extrapolation improvements
UPDATED Updated EAC
UPDATED Stripped server schema refresh (performance hiccups)
UPDATED Significantly improved shading on new foliage

UPDATED Increased overall forest sizes

UPDATED Big mix pass over most of the sounds in game
UPDATED Spawning scientists are invulnerable until activated
UPDATED Scientist reaction time goes up when they get hit
UPDATED Hapis – Updated Site A and B tunnels
UPDATED Hapis – 8 new cave and tunnels
UPDATED Hapis – updated roads
UPDATED Hapis – Updated site b tunnels to have radiation
UPDATED Updated Savas KOTH loot table with all recently added items

UPDATED AK47 has more hip aimcone

UPDATED Water reflections
UPDATED Temporal anti-aliasing
UPDATED Pubic, Armpit and Eyebrow hair

UPDATED AK47 has more difficult recoil

UPDATED Added 4 HQM to SAR cost
UPDATED Removed most Junk from Airdrops + Elite Crates
UPDATED TShirt/LongShirt additional radiation protection
UPDATED Reduced SAP HQM cost by 4
UPDATED Heavy Plate Armor slightly less movement speed reduction
UPDATED Heavy Plate Armor cost Halved

UPDATED HV Rockets cost slightly more than 1/4 that of regular rockets

UPDATED HV Rockets do 1/4 damage of regular rockets

UPDATED Reduced longsword cost

UPDATED Reduced rocket launcher cost

UPDATED Rocket lancher has increased durability

UPDATED You can now research and craft Binoculars
UPDATED CCTV + Targeting Computer are stackable to 64
UPDATED Hide armor costs halved
UPDATED SMGs HQM cost halved
UPDATED TShirt/LongShirt costs reduced
UPDATED TShirt/LongShirt research cost now 20
FIXED Fixed gather amounts being inaccurate on HUD
FIXED Fixed NPCs showing in the report list
FIXED Fixed main menu only showing one friend
FIXED Fixed hitching when opening map
FIXED Fixed that servers needed a restart before newly released skins could be used
FIXED Fixed health bars not updating when buildings are repaired via upkeep
FIXED Fixed being able to walk far away while looting
FIXED Fixed ore bonus nodes doing pointless position update ticks
FIXED Fixed field rocks sometimes overlapping monuments
FIXED Fixed some floating rocks near monuments
FIXED Fixed sometimes falling through terrain near monuments
FIXED Fixed rare world checksum mismatch on certain seeds
FIXED Fixed exploits to dive underneath terrain
FIXED Fixed some rock terrain adjustments having reverted
FIXED Fixed skin selection icons not refreshing until clicked
FIXED Junkpile scientists no longer hover above ground
FIXED Hapis – Fixed some out of bounds exploits
FIXED Hapis – Fixed junkpile spawns on cliff edges
FIXED Fixed gap in Garage door which allowed traps to be trigged through
FIXED Fixed blueprint read not using master sound
FIXED Fixed flame turret been trigger through walls
FIXED Pubic hair clipping through clothing
FIXED Broken wrists on some clothing items
FIXED Placement guides not showing underwater looking from above
FIXED Z-fighting in stomped grass when grass displacement is enabled
FIXED Particle shadowing inside caves and interiors
FIXEDArgument exception in motion blur
FIXED Number overflow in occlusion culling
FIXED Null reference exception in MaterialColorLerp
FIXED River UV stretching in direction of flow
FIXED Crash in terrain texturing initialization
FIXED Fixed skin shading when in shadow
FIXED Foliage biome tinting
FIXED Fixed Chainsaw chain direction
FIXED Fixed garage door culling at short range when gfx settings low
FIXED Fixed thrown objs impacting vehicle they were thrown from
REMOVED Removed workshop vote counts (Valve doesn't send them anymore)