Hey Bumfuzzlers! The Bumfuzzlernilla server has gotten a redesign, both servers had some graphical makeovers, there's new Discord voice channels, raiding party bases, some wipe talk, and some wipes happening! Read on for full info!
Bumfuzzlernilla
I decided to stop delaying what I've wanted to do for the last year.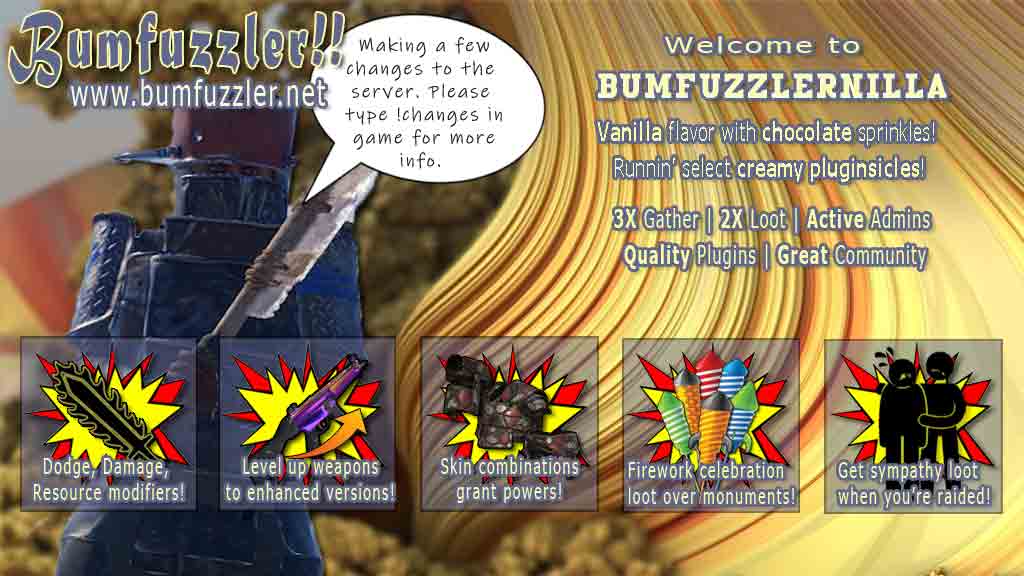 For a while now, the gameplay on Bumfuzzlernilla has been slowly moving towards the gameplay on Bumfuzzlertopia and it needs some lovin' and some discipline on my part to hold to the vision I originally set out to create – a higher gather, higher loot, but mostly vanilla feel with a lesser grind that isn't overwhelming.
So I've gone ahead and changed a few things:
Reset the loot to Facepunch defaults and multiplied it by 2x. It should now be more dynamic and balanced.
Disabled several plugins

Christmas Presents
Lockon Rockets
Patrol Helicopter Crash Event
Discord Raid Alerts (mobile app can do this now)
Meteor Shower
Zlevels

Set the gather rate to a fixed 3x multiplier
Modified Fireworks

Lowered the frequency of Fireworks
Lowered teh frequency of rockets
Lowered firework loot

Returned the Patrol Helicopter back to default settings
Enabled some new plugins

Super Skins
Super Skin Combos
Weapon Evolution
Loyalty/Prestige – right now it's just for bragging rights, no rewards

Returned smelting mostly to defaults

Speed was decreased by 20% (still 20% higher than default)
Charcoal production was increased by 66% (this is the default)

Adjusted raiding party bases

Easy base loot reduced by 75%
Medium base loot reduced by 60%

Wipe cycle has changed to 1 week (starting 10/17)

I may change this to 2 weeks, but let's see how it goes

Wipes will happen on 1st Thursday and then every Saturday after the first Saturday (starting 10/17)

I may change from Saturday to another day. Let's see how it goes.
In the end, I love Bumfuzzlertopia and plugins, but I also love the tension of the original game. My hopes are that this configuration will allow players to experience that tension of Facepunch's intention, reduce the grind, and give a couple of plugins that make exploring and discovering fun, but not unrealistic.
Feedback is absolutely welcome.
Server Makeover
With the changes to Bumfuzzlernilla, I decided to update the graphics for both servers.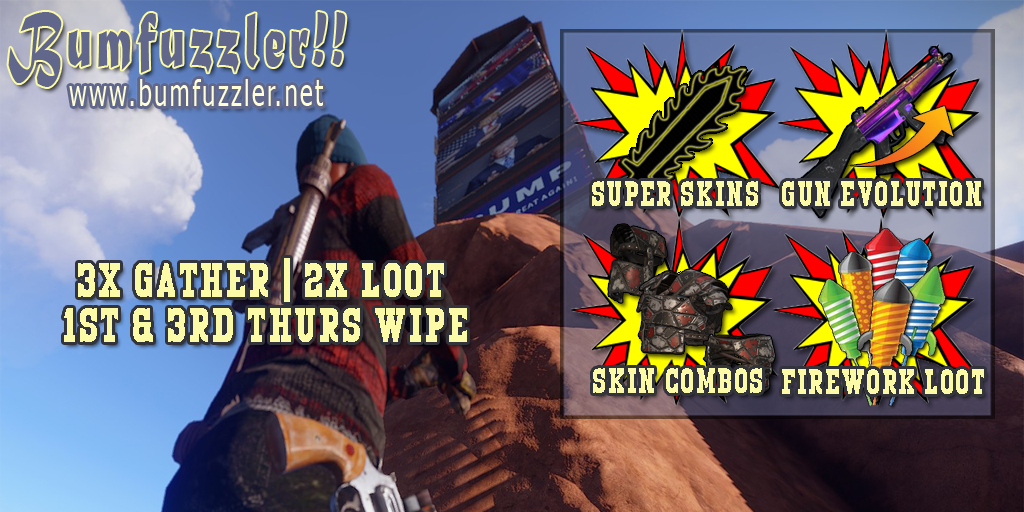 Above is what you'll see when selecting Bumfuzzlertopia from the Rust server browser.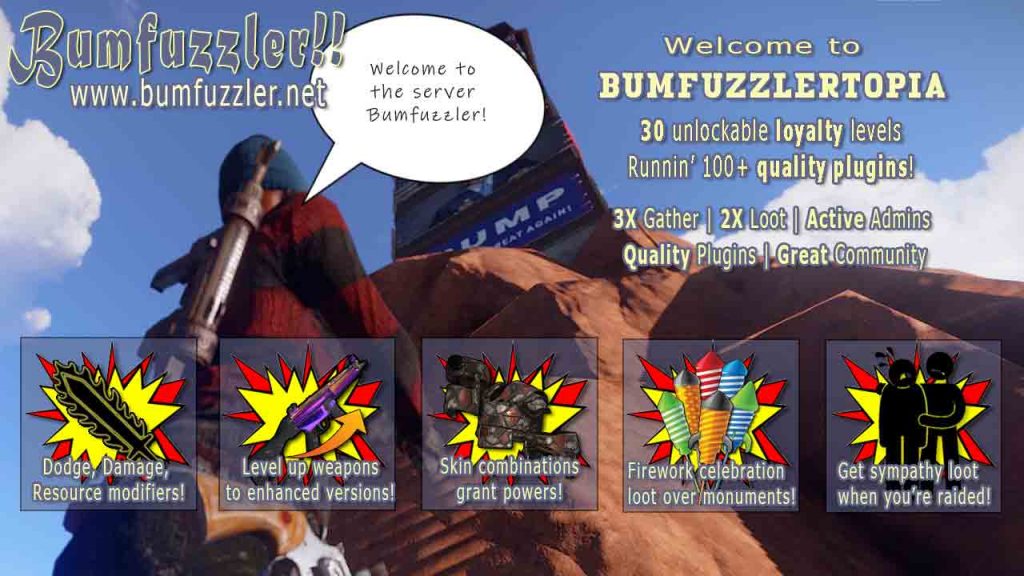 Above what you'll see on Bumfuzzlertopia – or you should be seeing when you join (it's broken at the moment) – or when you type /ui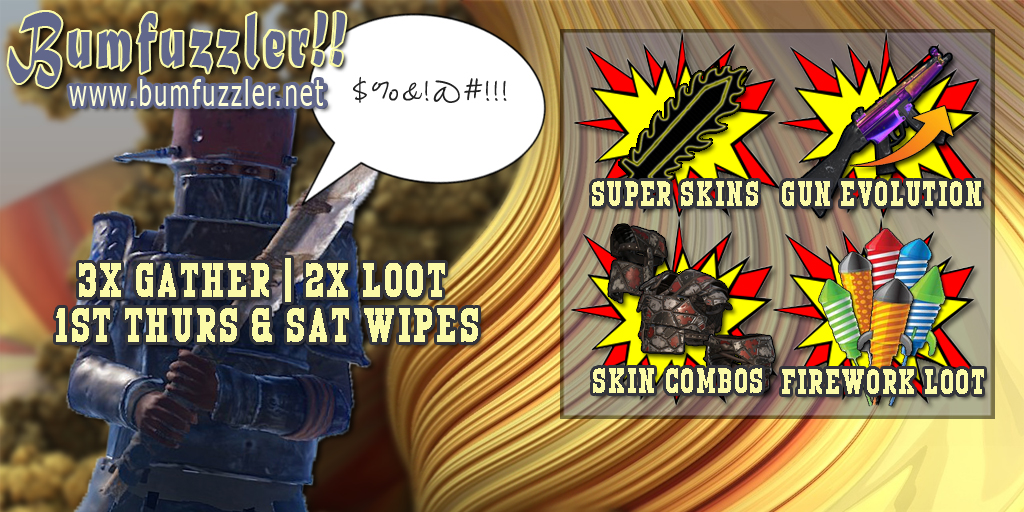 Above is what you'll see when selecting Bumfuzzlernilla from the Rust server browser.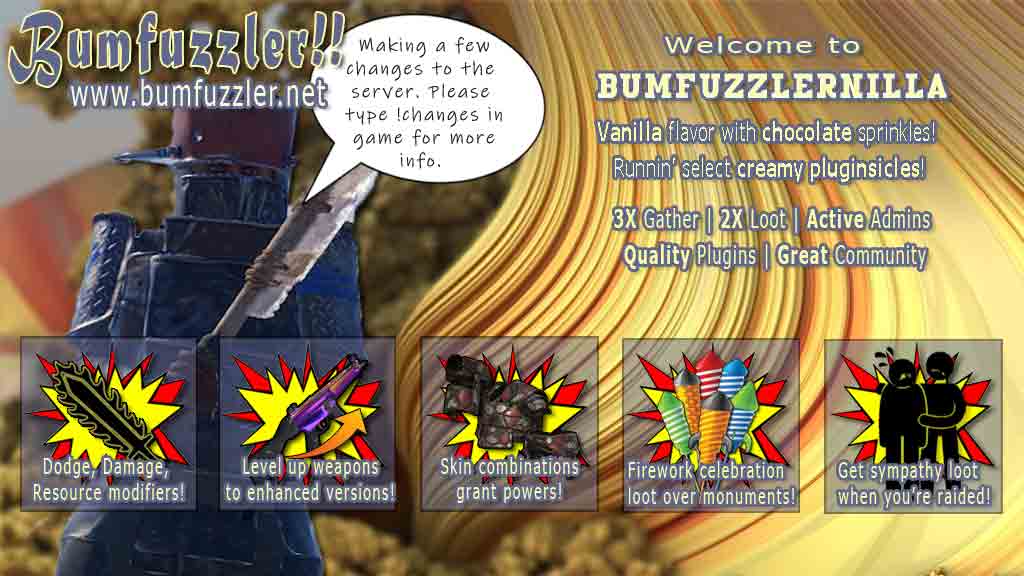 Above what you'll see on Bumfuzzlernilla – or you should be seeing when you join (it's broken at the moment) – or when you type /ui
Hopefully, this graphic makeover will adequately give players some indication of what the server is all about and will interest them to join up and be a Bumfuzzler.
Online Store Expansion
Up until now, you could only purchase items on Bumfuzzlertopia, but that isn't very friendly to Bumfuzzernilla players.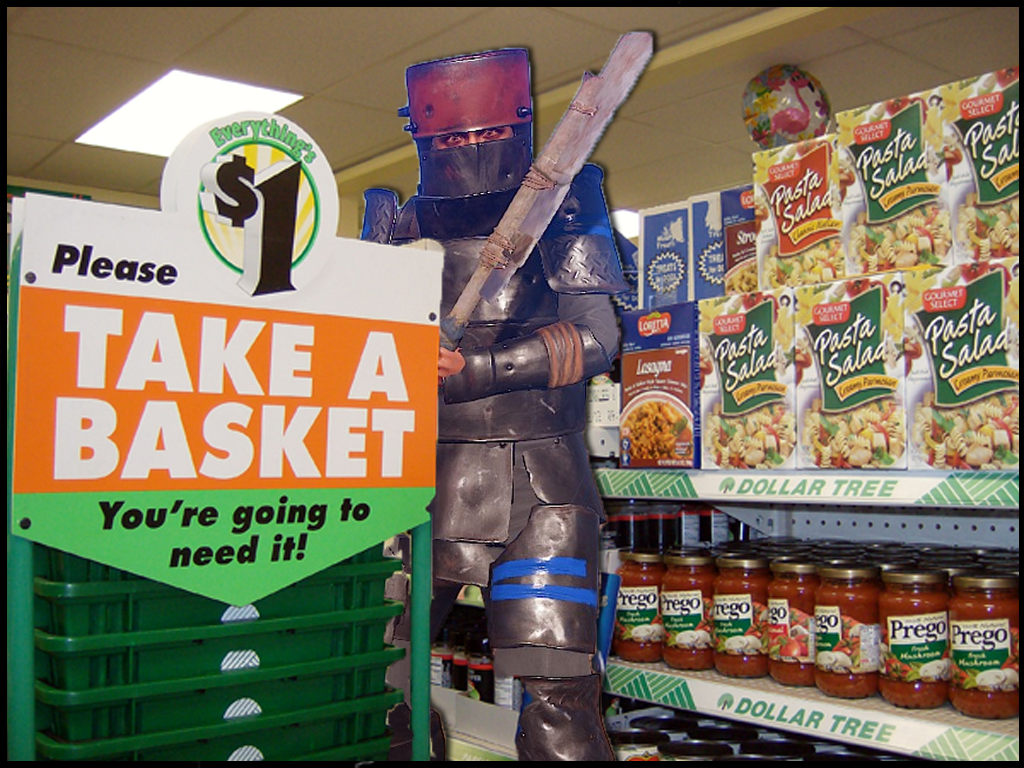 Not only do I want Bumfuzzlernilla players to be able to support their server of choice, but I started thinking, what if you could use your purchases on either server? That would be ideal for people who purchase a package for the month and then decide to change it up mid-wipe.
So my goal is to make many of the items on the online store available to both servers, so if you purchase one package, you'll have it for use on Bumfuzzlernilla and Bumfuzzlertopia. Let's say you purchase the Frequent Flier package which allows you to spawn your own minicopter, have unlimited fuel and call it to you whenever you are. You could use that on either Bumfuzzerltopia or Bumfuzzlernilla.
However, I may not include unlimited fuel on Bumfuzzlernilla so there may be some exceptions. I need to make sure there's balance. This means you may be able to purchase Gallop King so that you have the ability to spawn a horse and whistle so that it comes to you, but you won't get the kit that comes along with it that includes saddlebags and horseshoes.
Here are some of the packages I plan to make available for both servers.
Gallop King – gives you full control over horses, spawning, whistling for them…
Car Genius – gives you full control over vehicles, spawning, calling, choosing module layouts…
Frequent Flier – gives you full control over vehicles spawning, calling, unlimited fuel…
So far the only one I've setup is Gallop King
It'll take me a little bit of time to work out everything, but I'm thinking this will make all of the packages instantly more valuable to you all.
Go check out the store to see how it's coming together and support the server!
Discord Voice
I've added new voice channels in case players want to have a channel to themselves.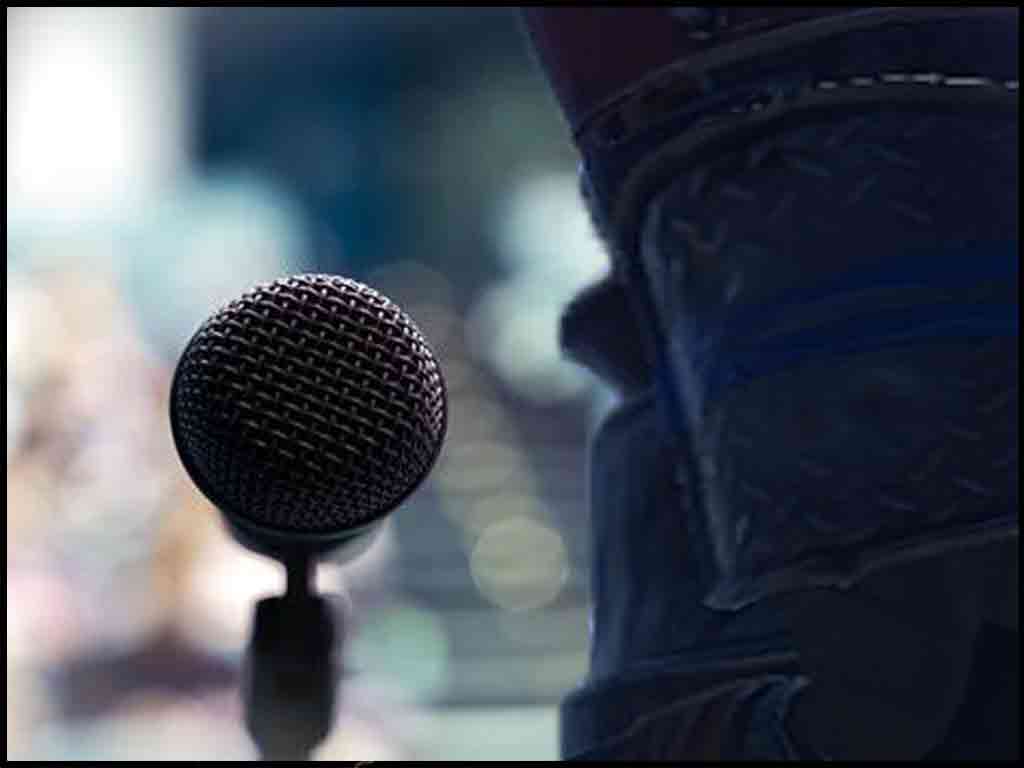 You'll find 8 new voice channels of 1 through 4 for Bumfuzzlertopia and Bumfuzzlernilla.
Topia One through Topia Four
Nilla One through Nilla Four
This way you can have a bit of privacy if you'd like.
Raiding Party
On Bumfuzzlernilla, there are now automatically spawning bases that players can raid.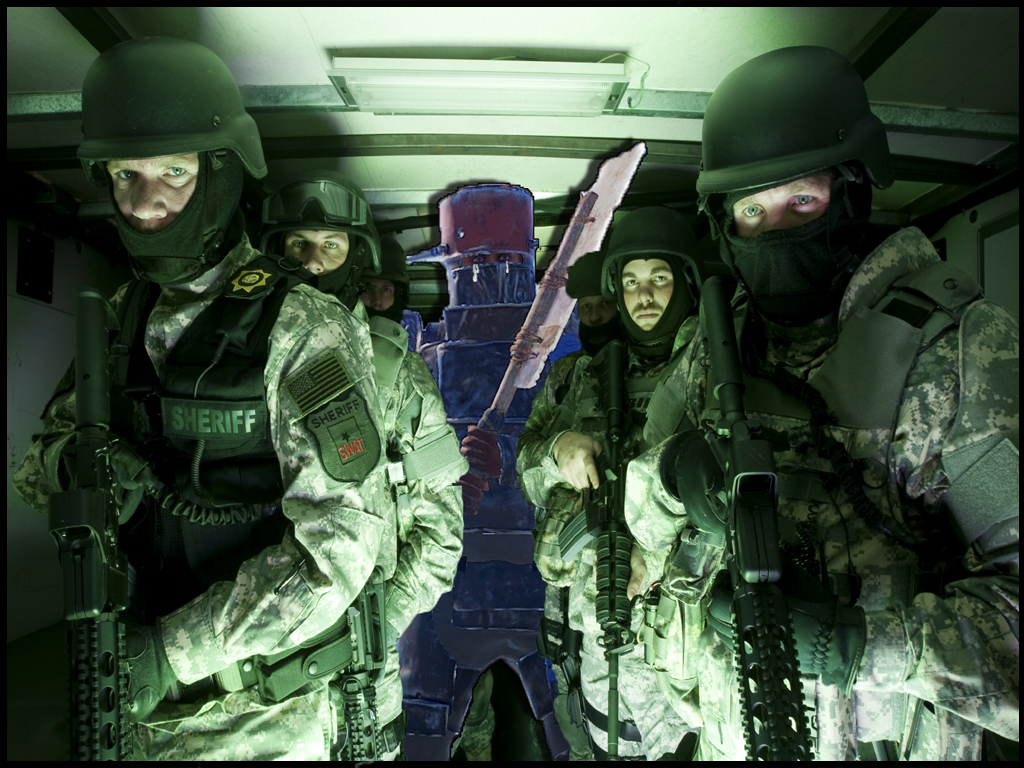 This should give players something additional bases to raid when they're feeling super aggressive, it should take the heat off of actual players, and it'll be a source for some loot.
Right now 70% of the bases are easy with 30% of them being of medium difficulty. I haven't set up any hard bases yet, but I will in the near future.
If the setup works well, I'll likely expand it to Bumfuzzlertopia as well, but it needs more testing as it's somewhat complicated.
Thanks to Glizzy Gladiator for letting me know medium bases weren't spawning loot. I'm working on fixing this issue.
Mobile App
There's currently an issue on Bumfuzzlernilla with the Mobile App.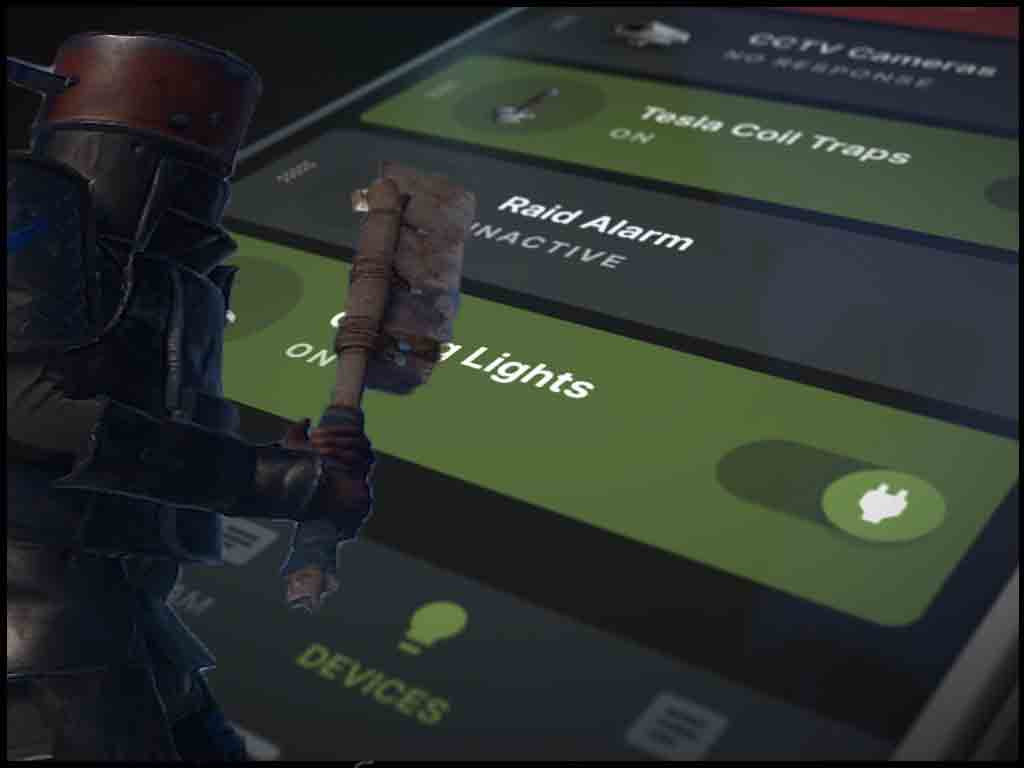 This will be resolved when I get a chance to restart the server.
Thanks to Doctor Who for notifying me about it.
Wipe Setup
I've been toying with the idea of changing the wipe setup for a few months.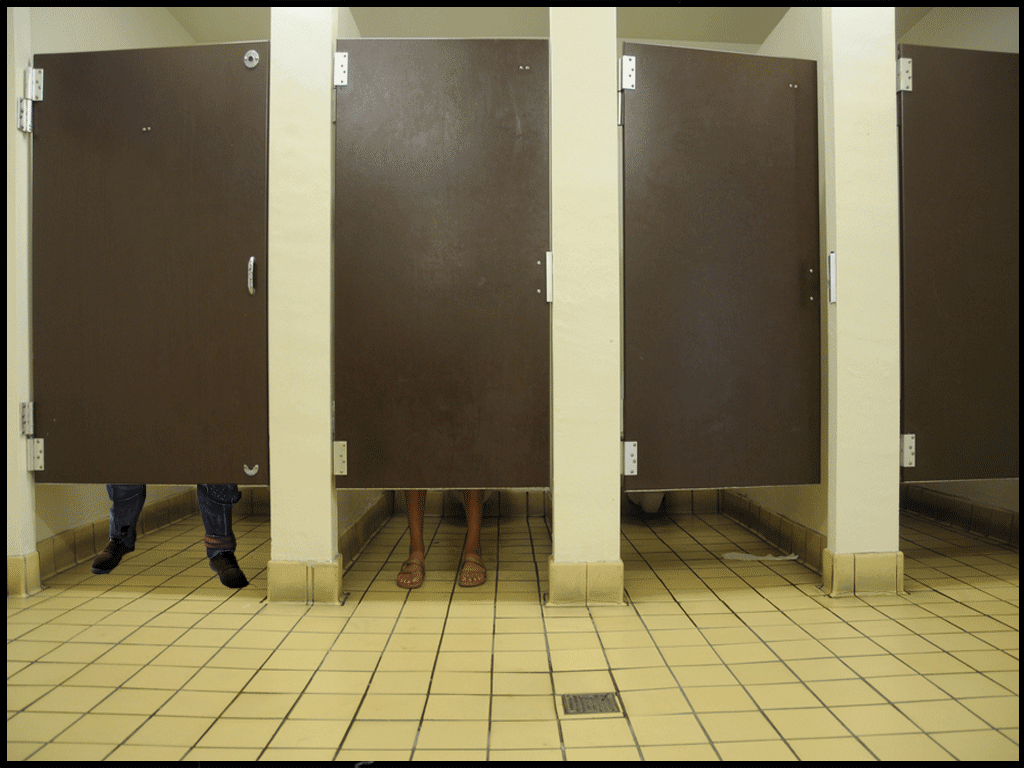 I'm going to keep Bumfuzzlertopia as is for now and experiment with Bumfuzzlernilla a little.
However, I am considering a few things for Bumfuzzlertopia.
A different second wipe day instead of always on Thursday.
The economy wipes every wipe regardless of when.
For #1, it's simply a matter of wiping at a time when other servers aren't to have a fresh map when people are looking for servers. #2 is a matter of keeping things consistent and making sure players joining during the second half of the month are not automatically disadvantaged. That's no fun.
I'm thinking blueprints would still be wiped on the first wipe each month.
As always looking for feedback. I haven't made any decisions yet.
Wipe Day
This week we'll have two wipes going down.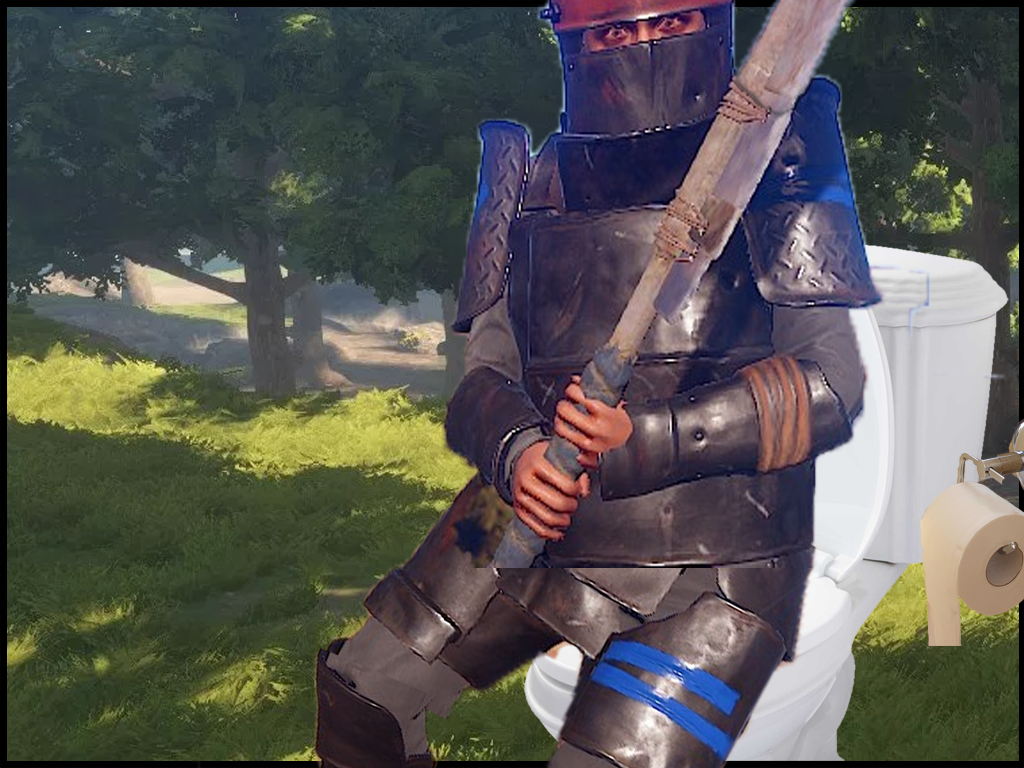 Today Bumfuzzlertopia will wipe between 2 and 4 PM EST. Blueprints and the economy will stay, but the map will wipe.
Then on Saturday between 7 and 9 AM EST, Bumfuzzlernilla will wipe. I'm going to wipe the map, but leave blueprints this time. I'll decide soon how I'm going to handle that, but I may leave both servers to keep blueprints all month.
Thanks as always Bumfuzzlers! I appreciate all the feedback and once again I hope you have a lot of fun out there!
Here's some info on what's coming down the road!