I've got some updates for you Bumfuzzlers! Here's a list of some recent additions to the server!
Skin Perks
I've added 6 more Skin Perks to the server and my hope is you'll find them useful! Here's a list of them along with some pictures so you can easily identify them.
Skullcrusher (Hammer) 15% less resources
Campaign (Cap) 10% dodge
Madness (MP5) 2x damage to animals/players
Red Rag (Bandana) 15% dodge
The Doge (Bolt Action Rifle) 2x damage to animals/players (Thanks to Doge for suggestion)
Samurai (Bandana) 10% dodge
Over the next few weeks I'll be adjusting their power and rarity. For now I'm just adding them in.
Santa's Elves
If you venture up to the North Pole or are hanging out in the Snow Biome, you may run across some of Santa's little helpers. Unfortunately, they're a bit cranky from all the work old Saint Nick is making them do. I originally disabled the North Pole event, but testing has proven to be successful so it's on like Donkey Kong! Doors open at 22:00. Don't be late and don't get trapped inside!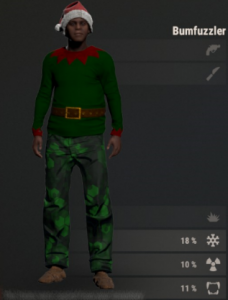 Friend User Interface
I've added a graphical interface for friends that makes it really easy to add/remove friends, send teleport requests and trade. It's really awesome! Just type /fmenu and it will open up the menu. From there it's pretty easy to understand. Hope you enjoy it! This improvement was made possible by the latest, very gracious donation by MattieMajestic. Thanks for your generosity!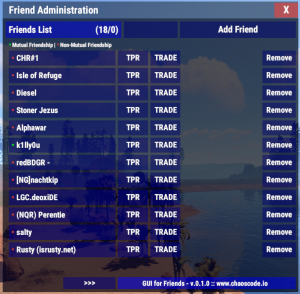 I hope all you Bumfuzzlers enjoy the updates! Please provide feedback and comments about the server! I'll be continuing to make changes so stay tuned! 🙂