Got a couple of updates for you Bumfuzzlers and wanted to pass them along! Viking boats you say? Hmm 🙂 Yes indeed, read on to find out how you and your friends can set sail and more!
Viking Boats
That's right! Now in addition to rafts, you can now have your very own Viking Boat decked out with sails, oars, several seats for your friends and some massive sea creds! Here's a comparison of the Raft and Viking Boat: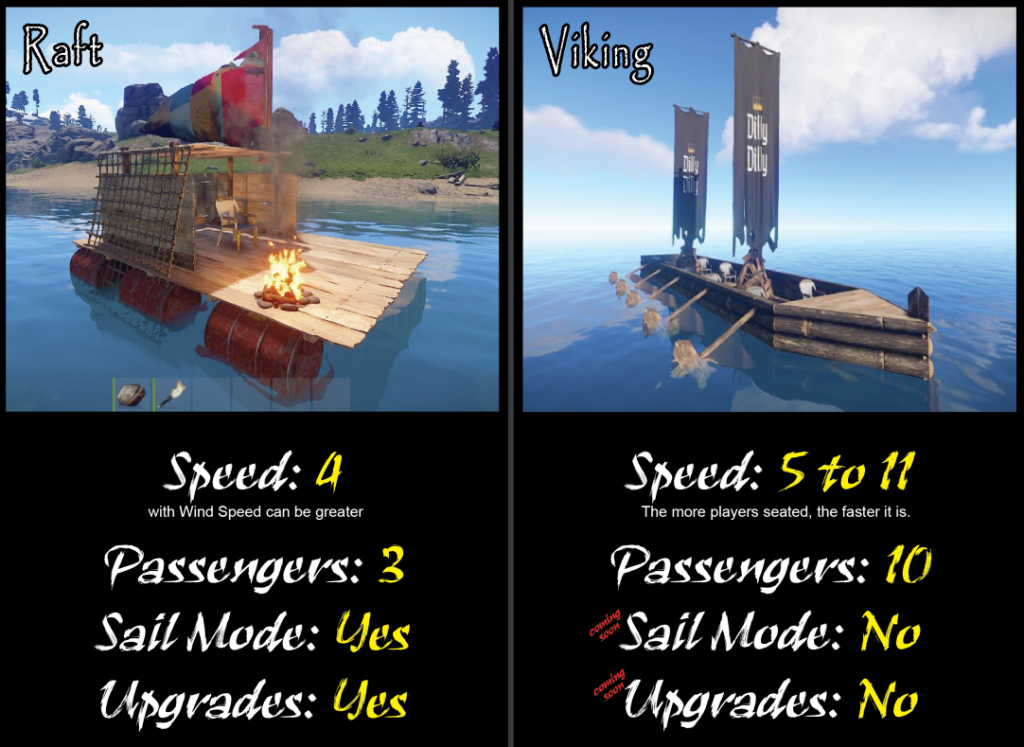 The Raft goes at a speed of 4 (unless there's more wind) and holds 3 passengers. The Viking boat's speed can from 5-11 depending on how many players are in it and it fits up to 10 passengers! Now that's a lot of Bumfuzzlers! The Viking Boat doesn't require upgrades since it comes built to the max. The Raft starts at 50,000 wood and the Viking Boat is 75,000 wood.
Enjoy storming distant lands with your friends!
Decay Notifications
Nobody's perfect. You forgot to put resources in your Tool Cabinet and now your base looks like Bumfuzzler. You're not alone. Thousands of Bumfuzzlers suffer the same consequence every year. Now, with the help of decay notifications, you'll be notified when your Cupboard is running out of gas. You can also check it manually by typing /tcstatus.
Keep in mind however, the plugin doesn't seem to support multiple cabs so it might be a little flaky if you have more than one. I've asked the plugin author to consider adding a couple features to help with that.
Wipe this Thursday
Since it's not in our schedule I want to remind everyone again that Facepunch is forcing a map and blueprint wipe this Thursday. This will affect all servers, not just Bumfuzzler Modtopia. Normally we would wipe on the 1st and 3rd Thursday of each month so I imagine this might catch a few Bumfuzzlers off guard.
Powerful NPCs
It appears there's a couple of NPCs floating around that are wreaking some havoc on players now and again and it appears it's related to the event where the helicopter refuels. Somehow, every once in a while, the bots associated with that event are left behind. This happens specifically at the Launch Site for some reason. If you get slammed repeatedly by a bot, please let me know the name of that bot. This way I can track it down and tweak it (hopefully) to be less commando. In the meantime I will try my best to adjust the NPCs to be mildly challenging.
Please all enjoy playing and keep the feedback flowing! Thanks!