Hey Bumfuzzlers, some truly awesome updates today! I know you Bumfuzzlers are going to love it! We've got a ton of changes and fixes and we're going to have a wipe tonight, but the star of this update is going to be elevators. Yes, that's right I said elevators 🙂 Read on!
Various Modtopia Fixes
Bunny Ranch now gives access to the Bunny Ranch kit – Thanks

CannonFodder!

Recycle is now working for levels 22, 23 and 24 – Thanks

CannonFodder!

Teleport back (/tpb) function (part of Warpmaster package) now works – Thanks

CannonFodder!

Christmas presents should no longer be empty when spawning – Thanks

CannonFodder!

Christmas presents message/jingle now appears/plays – Thanks

Ataxia!

Crosshair images replaced, no more errors – Thanks

Ataxia!
Notable Modtopia Changes
Several people would like to 

see more Jason! Jason Vorhees is now 200% less scarce
The SuperHeli and CH47 were spawning at the same time.

Now only one will spawn at a time
CH47 spawns between 2 hours and 2 1/2 hours
SuperHeli spawns between 2 1/2 hours and 8 hours – Thanks

Ataxia!

Lusty Map going black at times

After the 4:30am EST restart, LustyMap will be reset twice to make sure it's not black
Process may kick players with Packet Flooding error, just rejoin

Plugins aren't loaded after a restart

After the 4:30am EST restart, all plugins will reload to make sure they're loaded

Trade cooldown was lowered from 5 minutes to 1 minute – thanks

CannonFodder!
Elevators
Modtopia and Vanillatopia players are going to love this update! The Elevators are truly awesome! I can't say enough how much fun they are going to be for everyone and how much they will change the way you build bases. Hatches and stairs will now be more preference than requirement as you can build elevators up to 10 stories! (That's the limit I set which I'm sure is good based on stability) Here's some information about them:
You can build up to 10 stories
You can have 1 floor at every level
You can create elevators on foundations and floors
The elevator runs on fuel
You can have up to 2 elevators
You can share them with friends, clanmates or the public
Individual floors can be accessible by friends, clanmates, public, hidden, etc.
Here's a video and a quick and dirty explanation of how you'll create an elevator and generally operate it.
Look at a foundation or floor and type /newlift
You'll get a menu (explained below)
Put fuel in the tuna lamp to power it
The menu you get when using /newlift is going to present to you the following:
How many stories will the elevator be?
At which floors should doors be placed?
What will it cost you to build it?

Stories will require wood and metal fragments
Each door will require gears (not shown here)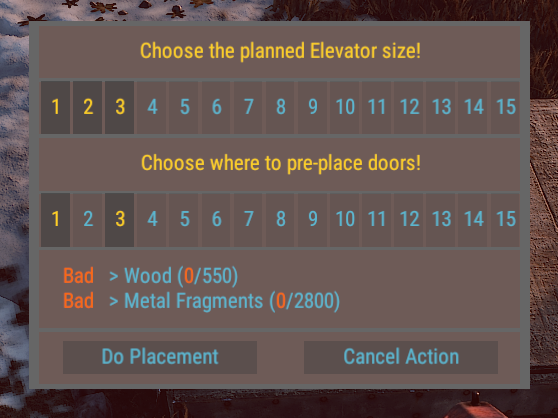 After the elevator is built, using the Activate Key on the tuna lamp gives you the menu below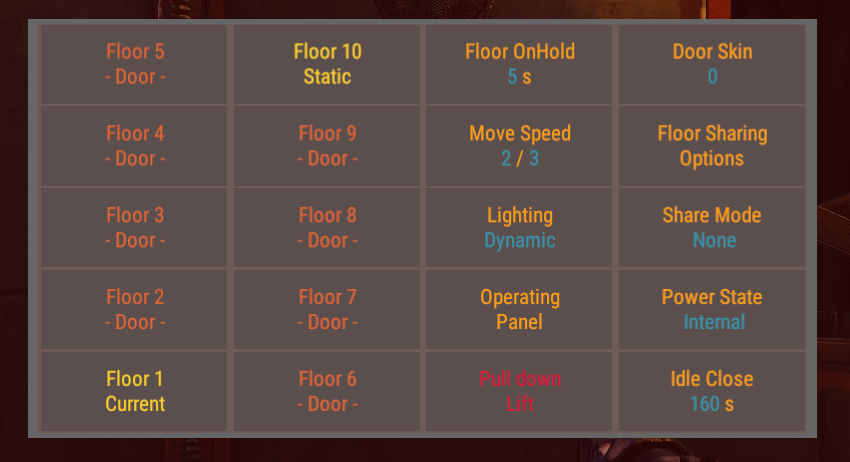 This menu allows you to
Floor # – Door- : Add/remove doors from your elevator shaft
Floor OnHold: Change how long the elevator will hang around
Move Speed: Change move speed
Lighting: Change lighting (off/always on/dynamic – comes on when you enter)
Operating Panel: Access the panel that is inside the elevator
Pull down lift: Allows you to destroy the elevator in total
Door Skin: Change the skin of the door (seems a little buggy)
Floor Sharing Options: Change who can access each floor
Share Mode: Change who can access the elevator
Power State: Absolutely unsure lol
Idle Close: How long does it take the door to close on it's own
Accessing the Floor Sharing Options within this menu will give you the menu below. This menu gives you the ability to change the access to each of the floors individually.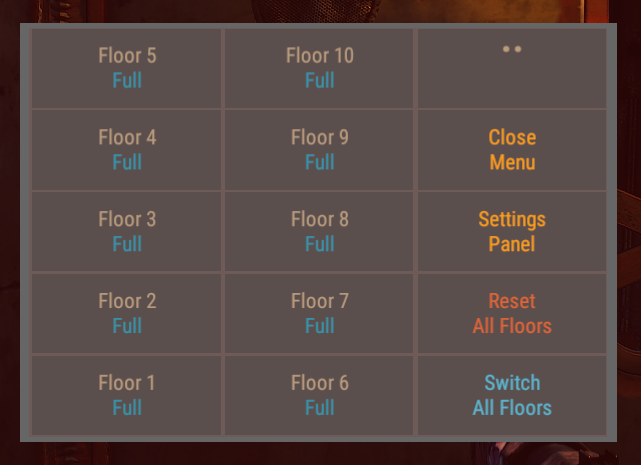 Lastly, when accessing the panel inside the elevator, you'll get this menu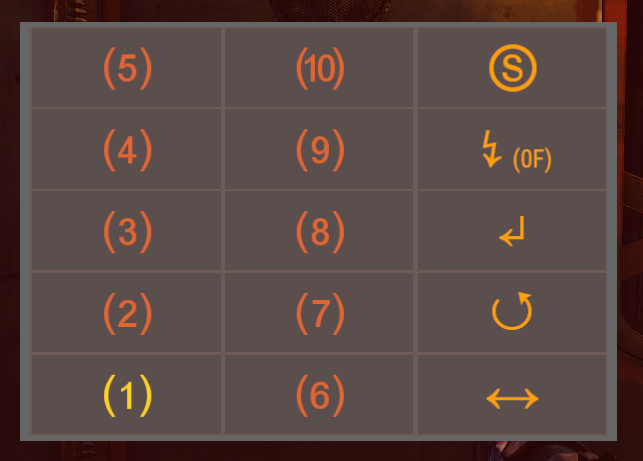 Numbers when selected go to that floor
On the right side:

Gives you tuna lamp menu
Opens fuel storage
Unsure what this does lol
Closes door
Opens door
This is completely new so I expect some issues to creep up. In fact, I know of some things that could easily be used as exploits that I'm hoping are addressed soon. I didn't feel like waiting until it got perfected because I saw the massive impact this plugin would make. That means, please as always, report to me the things you find with it.
Thanks for all the Bumfuzzling feedback as always! You guys are awesome! Have fun! 🙂